Wired Aerial Theatre is currently preparing to launch an accredited Affiliation Scheme for those wishing to teach Bungee-Assisted Dance and/or vertical wall. Our focus is to be able to support and also monitor safe practice on the provision of harness techniques within the dance and exercise industry. Please see below for an outline of what the training programme will comprise, and watch this space for news of the official launch in early 2017.
Wired has now begun to work with affiliates who wish to deliver Bungee-Assisted Dance and/or vertical wall training. Wired is able to tailor-make packages of installation and training of potential teachers/trainers, appropriate to client's venues and ability levels. We can provide specific studio packages that will allow you to provide bungee-assisted and vertical wall training to your students. We can support you through every necessary step to allow you to install appropriate equipment and hardware, and provide high level in-house staff training. We also offer provision of skills and grading systems for those who wish to teach different levels of ability. Just ask!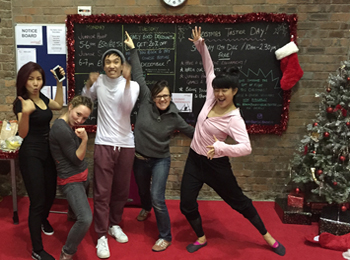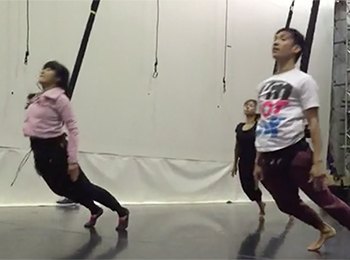 Provision of Training to teach Bungee-Assisted Dance
If you wish to become a teacher of bungee-assisted dance or any other associated skills or exercise using the basics of the technique as a starting point, be extra vigilant on where you seek your training.
As a company we would imagine that anyone wishing to offer certified training to members of the public should do so from a level of experience that spans years. Harness work places strain on circulatory systems in the body and we believe that instructors require knowledge and a wealth of experience when working with the public who have considerably less awareness of this. Please be careful. Bungee use in any capacity can be dangerous if you dont have the correct level of experience to use it and know how to teach it safely. Looking after your body is a long-term commitment, choose your aerial teachers with great care and after much consideration.
We urge anyone wishing to learn how to teach and become an instructor of Bungee-Assisted Dance or the other associated exercise techniques, to research thoroughly the history of the company, and people who will be responsible for delivery of that teaching.
what we offer and how we support
This can vary depending on teachers' previous experience, existing physical skill base, frequency of classes to be offered, venue specification and the time you have available for us to work with you. That being said, we follow a process which involves 3 stages of learning. Considering we created this technique over 16 years ago, and have spent every moment developing safe practice and exciting methods of teaching, observing learners, performance and the artistic use of it - there is a lot to pass on! In general these 3 stages comprise of:
Stage 1
We provide physical training in the basic skills of your chosen harness techniques
We provide first level aerial consultation regarding your venue and its suitability for aerial work of this nature
We share important and specific strength and stamina building physical exercises which will prepare your bodies to work in a harness and in the air
We introduce the grading system should you wish to work to our grades of development (a fantastic goal setting exercise for those wanting to progress in these techniques)
We design the aerial set up in your venue and suggest the appropriate equipment set up necessary, while understanding your class focus, and provide a service to supply all bespoke aerial equipment required
We provide on-going consultation to allow you to work safely and improve in your skills from when you leave us to when we see you again for Stage 2.
Stage 2
We provide physical training in the improvers' skills of your chosen harness techniques
We introduce 'how to teach' these techniques, with focus placed on safe practice, skill accuracy and feedback methods appropriate to class situation
We broaden the learning tutor's knowledge of skill, perfect their skill execution and develop their understanding of the physics involved with the chosen techniques, taking the learning tutor's understanding to a much deeper level.
We intoduce the grading system and exercise several grade levels with the learning tutor so they can understand the process from both sides
We re-assess rigging and software used in the venue to ensure health and safety aspects are covered confidently
We provide the media and paperwork associated with the harness techniques you have chosen to learn
We provide on-going consultation to allow you to work safely and improve in your skills from when you leave us to when we see you again for Stage 3.
The great news is that we consider you safe and experienced enough to teach the skills you have learnt, at the end of the training period of Stage 2.
Stage 3
This is when things become incredibly exciting! The techniques to this date are all in a 'locked off' set up. We can begin to work with you and your staff to be able to shake things up a little and begin to explore different aerial set ups. We can change and/or create different bungee set-ups (allowing for very different spring effects and speeds), teach counter-balance assistance, and work artistically (incorporating theatre and other dance styles to your chosen harness techniques). We can teach partner work and contact work for example; there is no end to where you can go with this.
The possibilities that these harness techniques hold are endless and we would love to discuss your thoughts on where you personally would like to explore and to develop with our guidance. If you are bitten by the bug (and we understand this feeling) and you have to have more, then we can certainly give you that!
Wired believes that keeping our bodies in good condition is the most important factor for everyone taking part in aerial workshops, and that people teaching within this niche genre should take the role of trainer very seriously. Students' lives are quite simply in our hands as soon as they put the harness on their body. It is not only about the now, but more importantly about the longevity and health of your body in years to come. Only those people with the correct training and depth of experience should be allowed to teach and guide general public to learn aerial skills, which play with excersions to blood circulatory systems in their bodies.
Case study:
Stories to Tales Theatre (Thailand) came to the UK to work with us last year (10 months ago), in December 2015. The three members of staff had no experience of any kind of harness work. They wanted to set up their own Bungee-Assisted Dance and vertical wall training classes as part of their fitness and dance studio in Thailand. They experienced 44 hours of training with us which was Stage 1 of the training programme we set out, designed and agreed with them. This covered some basic skills and training exercises to allow them to begin to learn and practice important technical skills required in both harness techniques. A mock assessment brought the results of 1 fail, 1 below average score and 1 average score (they were being assessed at basic level). We shared all our ways of working, we designed and supplied the bungees for their studio, even designed their vertical fabric wall for them and guided them through how to install and use it in their very low ceiling studios in Thailand.
Stage Two and Stage Three of the agreed training with us are yet to be completed although we have urged them to continue onto stage 2 after seeing their work on various youtube links.
NOTE: Although we provide high level consultation and training supported by 16 years of research, unless a participating company continues to work to the agreed scheme we cannot be held responsible for safety aspects, equipment choices and quality of training which clients provide when outside of our supervision and outside of the scheme.