Hoops & Silks
Here at The Higher Space we have devised our own graded aerial silks and hoop syllabus for 6-15 year olds. Students are taught moves, routines and techniques to condition their bodies at a level that is suitable to their ability and can work at their own pace towards their aerial grades. As well as grades we also teach routines every term, encouraging students to perform the skills they have learnt in a sequence to music. This is a great way to get fit, get flexible and make friends!
We run regular Junior Hoop and Silks classes at The Higher Space - you can sign up for a full course or for individual sessions. Check our Timetable for prices and details of how to book!
Holiday Circus Clubs
Over selected school holidays we run a week-long Circus Club for our juniors. These clubs are open to anyone, at any level, from ages 6-14 years. Over the week you can learn different skills on various pieces of aerial equipment (including silks, hoop, trapeze and cocoon), along with team building games and fun activities.
NEXT CLUB!
JUNIOR SCARE SCHOOL
Mon 22nd - Fri 26th Oct 2018
9.30am - 3.30pm
This will be a spooky, Hallowe'en themed week where the Juniors can go wild with the make up and costumes as they creep around the space and fly above your heads. Come and watch the show on Friday if you're brave enough!
The week will include Hoop, Silks, Cocoon, Trapeze, acting, dancing and sound recording. All levels and abilities more than welcome!
Early Bird £70*
£80 for the week
£40 sibling discount!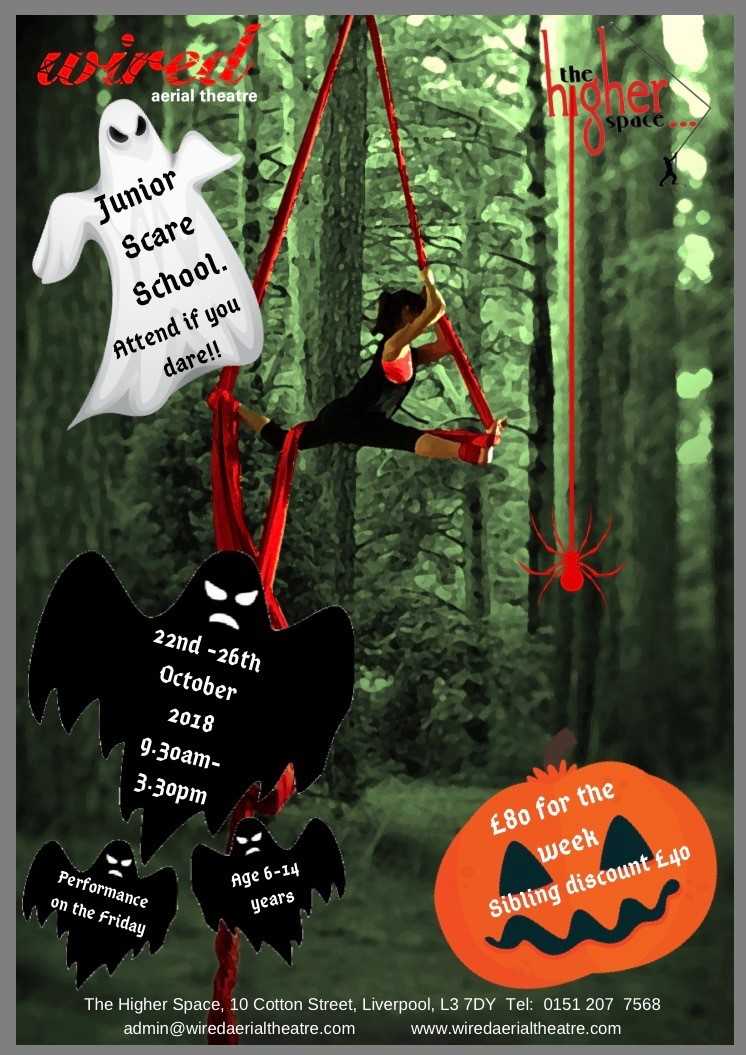 *Payment must be received by Fri 21st Sept 5pm
Back to Workshops