We are thrilled to announce our new classes at The Higher Space for January - February 2017; we've got weekly Hoop and Silks classes for both adults and juniors, a new Open Practice session, and a new Bungee-Assisted Dance course - phew! The full schedule, and all booking and pricing details are on our Timetable page. You can get an early bird discount if you book by 18 December!
And back by popular demand is our Bungee-Assisted Dance / Vertical Wall combo weekend on 21-22 January. An open level workshop, it's the perfect option for people who want a concentrated aerial experience, and a fantastic opportunity to try out our two favourite harness techniques. All the details are on our Masterclasses page - it's not to be missed, just ask the participants who came in November:
I loved how much I was able to do.
Brilliant course, excellent teacher, fantastic weekend.
More people need to experience this!
We are absolutely delighted to welcome some new faces to our teaching team at The Higher Space, so now seems like a good time to introduce the tutors...
Junior Aerial Circus - Kit Eckersley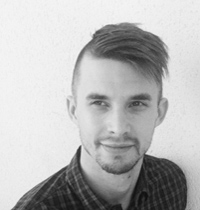 Kit is a dynamic, multi-skilled performer and circus teacher, with a passion for seeing his students learn and develop. After training and competing as a youth in gymnastics he developed a love for circus arts, and is skilled in performing aerial hoop, silks, acrobalance, stilt walking and straps amongst other techniques. Most recently he has taught acrobatics at the Arden School of Theatre and spent the summer working with the world famous Gifford Circus.
We are thrilled to welcome Kit as the newest member of the Wired team to teach our Junior Aerial Circus classes (Block 3 starts in January on Monday evenings – Hoop 5-6pm, Silks 6-7pm).
Adult Aerial Circus - Grace Turner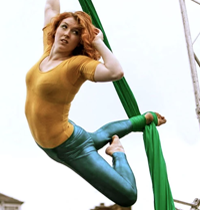 Grace is an eclectic and ambitious dancer, aerialist and performance artist who experiments with the boundaries of physicality, theatre and creativity. She trained professionally at the Liverpool Institute of Performing Arts, graduating with a 1st Class Honours Degree. It was during her professional training at LIPA that Grace began to widen her creative horizons by training as an aerialist. Since graduating she has performed and taught aerial dance internationally with a wide range of companies (including RoguePlay Theatre, Gravity and Levity, Shifting Sands Theatre, Oily Cart, Greentop Circus and Hammond Feel the Magic). Along with her sisters Grace is the founder and artistic director of TurnAround Dance Theatre.
After a flying start in 2016 with Wired we are delighted that Grace will continue to lead our Adult Aerial Circus classes in 2017 (Block 3 starts in January – Tuesdays 7-9pm).
Bungee Assisted Dance and Vertical Wall - Daniela B. Larsen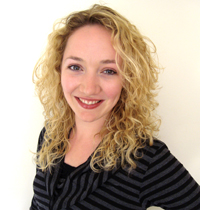 Dani has specialised in Bungee-Assisted Dance and vertical wall techniques with Wired since 2010 as an active collaborator, creator and performer. She took up the permanent post of Head Performer and Education Coordinator in 2014, collaborating in the delivery of aerial performance modules at Edge Hill University and LIPA, and creating, delivering and supervising the workshop programme at The Higher Space. Click here to read her full staff profile.
Dani will be leading our new Bungee-Assisted Dance class for Block 3 starting in January (Thursdays 6-8pm), as well as leading our popular Bungee-Assisted Dance / Vertical Wall combo weekend on 21-22 January.
Back to News