Kit Eckersley is the newest member of Wired Aerial Theatre, joining us at the beginning of 2017 to teach our Junior Hoops and Silks classes. We caught up with him to get to know him a bit better!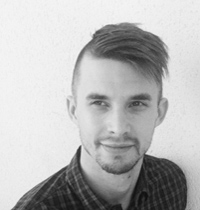 Hi Kit! You work with our juniors here at Wired - tell us about what you did as a youngster and how you came to discover aerial circus.
When I was young I had so much energy I used to literally bounce off the sofas every day. My mum didn't think the furniture would stand up to it so she took me to gymnastics. I started out at a club in Gorton Manchester and I did my first 4 years of gymnastics there starting at 4 years old. I continued with gymnastics, both performing and competing, until I was 15 when the pressures of school meant I didn't have the same time to give to gymnastics. At the same time I was also starting to find my own way a little more and found gymnastics didn't give me the freedom of expression I wanted. After that I tried trampolining and high board diving, spending 2-3 years on both. All these led me to circus when I finally found an adult acrobatic class 6 years ago. I met some aerialists who were trying their hand at acrobatics and they convinced me to try hoop. I've not looked back since, I love to swing and bounce just as much as I did when I was a child.
Who or what are your inspirations?
I get inspired every time I see a good show or get to train with exceptional artists. I've been very lucky to meet some wonderful people over the last year and it really helps to keep you motivated to achieve all you can. It's also great to see how humble these people are, even at the top of their game, willing to help people to be the best they can be. My favourites have got to be watching Barely Methodical Troupe - it's great to see homegrown talent putting on such good shows. Training with Forma Fortis - this family have been teaching acrobatics around the country for years but it's always a delight to learn from them. Such a talented family even without the acrobatics! I'm also very lucky to train with some very talented and dedicated people on a regular basis. Seeing how hard they work and how much they achieve really spurs me on. From the beginners starting out to the people who've been doing it years, it's a great pleasure to share in their journeys.
What has been the most memorable performance you've worked on?
The most memorable performance I've worked on was working for Wild Rumpus at Enchantment of Chester Zoo. The Wild Rumpus team are a delight and have a real creative spark which adds a little magic to everything they do. I also was lucky enough to be performing with my partner which made it even more fun. We were performing as spiders at the zoo trying to get the children interested in some of the more unusual animals over the Halloween period. The reaction from the children was fantastic and I really enjoyed being a creepy crawly for the zoo.
What made you want to join Wired Aerial Theatre - and how has your first month been?
Wired is a company I'd been keeping my eye on for a while. I really loved the idea of bungee and vertical wall dance. I loved that spark of imagination shown by taking dance and doing something new, opening up even more options for expression and experimentation. I also had heard great things about Liverpool as a city and I thought it would be a great opportunity to be inspired by another city and its artists. The first month has been fantastic. My students are all lovely and fun, full of smiles and laughter while we swing and hang upside down. The Wired team have made me feel very welcome as well. I can't wait for next month!
What do you enjoy most about teaching young people?
Young people bring so much enthusiasm and and joy, it's very infectious. When I'm teaching them I remember all the joy that brought me to hang upside down in the first place! It's also great to be part of someone's journey so early on. I really enjoy seeing them achieve more than they thought they could.
What advice do you have for any aspiring young aerial superstars?
Don't give up! And never lose the joy in what you do. It can be hard sometimes when you're learning new things but remember how far you've come already. Believe in yourself and you can do it. Don't be afraid to experiment, take risks and do things your own way.
Thanks Kit - some wonderful advice there! Our next block of junior classes begins on Monday 27 February - if you'd like to come along and see what it's all about, just click our Workshops page and send us a booking enquiry form!
Back to News